HVAC Service Professionals Near Northborough, MA​
Sharp Plumbing & Heating is a fully licensed and certified company specializing in HVAC services in Northborough, MA, and surrounding areas. Whether you need a new air conditioning or heating system, HVAC replacement, reliable repair services, or routine maintenance, our experts have the technical skills and resources to provide you with exceptional service.
No matter your unique requirements, don't hesitate to call us. We will get to you and provide you with the most effective solutions that will last. When you hire us, take advantage of an exemplary level of service and straightforward, honest pricing.
Residential, Commercial Heating & Cooling Services
You rely on your heating system to keep you warm and safe during the long, cold winters in Massachusetts. You count on your air conditioning unit during the hot and humid summers to keep you cool and comfortable. 
We offer a complete range of HVAC services to help you maintain an optimal indoor temperature and enjoy an energy-efficient performance from your HVAC equipment all year round. 
Our highly-trained professional technicians specialize in:
AC REPLACEMENT & INSTALLATION
If you want to install a new air conditioner or replace your current one, we offer precision installations and high-quality air conditioning units.
Our professionals have the expertise to repair all major brands and will be able to fix your unit on time and get your air conditioner working again.
AC MAINTENANCE AND TUNE-UPS
We offer routine maintenance plans that are affordable and designed to save you money.
HEATING INSTALLATION AND REPLACEMENT
Our technicians can recommend the perfect heater for your needs and handle the installation seamlessly.
We offer prompt appointments to inspect your heater, diagnose the problem, and repair it quickly so that you have your heat back.
HEATING MAINTENANCE AND TUNE-UPs
Our Care Club is a regular maintenance plan that our customers use to avoid unexpected breakdowns and maintain their expensive HVAC equipment.
At Sharp Plumbing & Heating, we install, replace, maintain, and repair all major brands of furnaces, heating systems, air conditioning units, boilers, and more. Whether you are looking for HVAC replacement or repair, you can rely on our professional technicians to provide you with honest, reliable, and trustworthy services.
Your Nearby HVAC Professionals in Northborough, MA
We are a local company that has established trust with the community since 2002. Your satisfaction means the world to us, and hiring our team for your HVAC needs comes with many unique advantages.  
Fully licensed and insured HVAC system experts
Flat-rate pricing
100% satisfaction guarantee
Clean and tidy work
Courteous and respectful crew
On-time services
State-of-the-art tools and technology
Contact us today to discuss your unique requirements. We have the technical skills to provide an accurate diagnosis and solve any problem with your AC or heating system.
Reliable AC Replacement and Installation Services
When something goes wrong with your air conditioner, our experts will inspect the unit thoroughly to determine the problem. Depending on the age of the equipment and the extent of any damage, your air conditioner might need to be replaced. If your system is very old, keeps breaking down, or is damaged beyond repair, we may recommend a replacement.
Whether we're installing a new unit in your home or replacing an existing one, we have a wide variety of high-performing, energy-efficient air conditioning units. We also specialize in ductless and mini split air conditioners.
Contact us to learn more about our affordable cooling solutions and find the best equipment for your unique requirements. From start to finish, we guarantee a hassle-free and seamless installation process.
If your air conditioner is blowing warm air, not cooling effectively, or malfunctioning, we offer reliable, experienced AC repair services in Northborough, MA, and surrounding areas. When the weather is scorching outside, it is never a pleasant experience to have a broken air conditioner. 
The following signs are indications that your air conditioning system needs prompt servicing.
Unusual rattling, rumbling, or ticking noises
Reduced airflow
Warmer air from the vents
Leaking refrigerant
Poor quality of air
Higher energy bills
The circuit breaker is tripping
Frequent cycling
The unit cannot be powered on or off
We know how important it is to get your cooling system working again soon, so our team will make every effort to get to you as quickly as possible. We are experienced in all types and major brands of air conditioners, ductless units, and mini split units. 
Contact us to make an appointment with our technicians. We will repair your unit promptly to get you back on track.
Quality Heating Installation and Replacement
Winters can be brutal in Northborough, MA. You rely on your heating system to provide warmth and keep you safe from extreme weather conditions. It is essential to have an efficient and high-performing heating unit that provides your property with adequate heat and clean indoor air. 
If you need a furnace installation or replacement, Sharp Plumbing & Heating is here for you. Our professional technicians can provide you with a complete and stress-free HVAC replacement and installation service. 
We can make affordable and energy-efficient recommendations after carefully assessing your property, size, and heating capacity. Contact our friendly customer service associates to get started today.
Do not suffer in the cold. If you are experiencing problems with your heating system, our HVAC service experts will get to you as soon as possible. Whether you have a sudden breakdown or your unit is underperforming, our certified technicians can provide an accurate diagnosis and no-obligation, precise, upfront repair costs. 
When your HVAC unit starts showing signs of trouble, the problem typically stems from age or general wear and tear. We recommend scheduling a repair appointment immediately to prevent further damage to your expensive equipment. 
Here are a few signs to look out for:
A sudden spike in energy bills
A yellow burner flame
Strange sounds coming from the furnace
You are adjusting the thermostat too often
Short cycles
An extremely old unit
Poor indoor air quality
Inconsistent heating with cold spots
A lack of preventive maintenance
The pilot light turns yellow
Sharp Plumbing & Heating has provided reliable and cost-effective repair services for two decades. Our knowledgeable team will get to the bottom of the problem and restore your unit to perfect working condition. Contact us today, and we will take care of the problem for you.
Routine Maintenance and Tune-Ups
Take advantage of our Assurance Care Club program and keep your HVAC systems in the best shape with our preventive maintenance visits. Avoid unexpected shutdowns and extensive damage to your units by scheduling regular inspections from our licensed technicians.
We will service your heating unit just in time for winter and care for your air conditioner before the start of summer. This will ensure that the HVAC system is ready to perform efficiently and reliably when you need it. The importance of professional checkups cannot be underestimated. 
Reduced energy consumption
Prevention of damage and expensive repairs
Prolonged lifespan of your equipment
Improved indoor air quality
Fulfillment of warranty conditions
Increased safety
Contact us to learn more about our affordable Assurance Care Club membership. You will also have access to priority scheduling and discounts on services and repair.
Cooling Maintenance and Tune-Ups
Our technicians will conduct a thorough inspection of your AC unit and look for signs of damage. During a routine tune-up, we will:
Lubricate all parts
Check the air filter and replace it if necessary
Check the blower motor
Check the refrigerant level
Conduct safety tests
Clean the outdoor condenser coil
Check capacitors
Look for rusty or damaged parts
And much more
It is certainly not worth risking the early demise of your expensive air conditioning unit. Maintenance is the key to taking care of it and saving money in the long run.
Preventive Maintenance for Heaters
Our heating unit inspection is quite similar to AC maintenance. We ensure that your furnace or heat pump is performing at peak efficiency. Our heating tune-up also includes:
Testing for carbon monoxide
Checking humidifier operation
Testing for gas leaks
Monitoring the unit for combustion leaks
Cleaning the burners
Lubricating all of the parts
Adjusting the burner for maximum efficiency
Checking the heat exchanger
Regular maintenance of your furnace can save you money on energy bills and repairs. Keep your heating unit in optimal condition before the start of the cold weather in MA.

Your Plumbing & Heating Professionals
Our plumbers and heating technicians work hard daily to serve you with reliable, expert service in Northborough, and surrounding communities.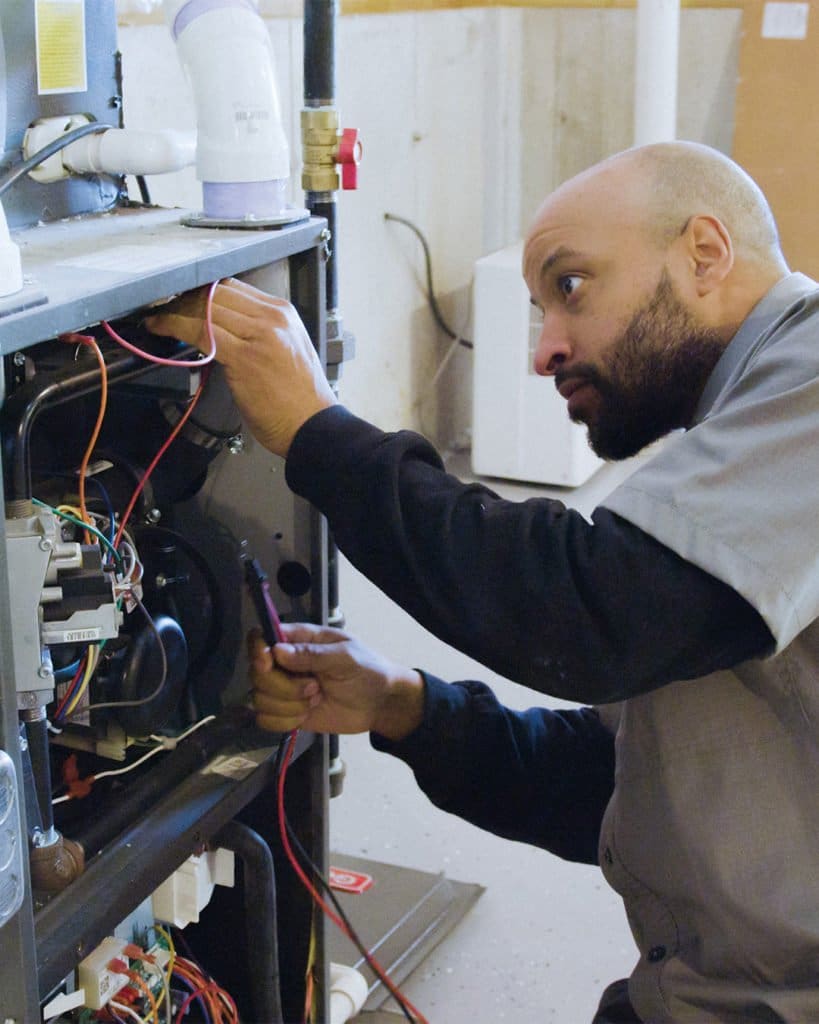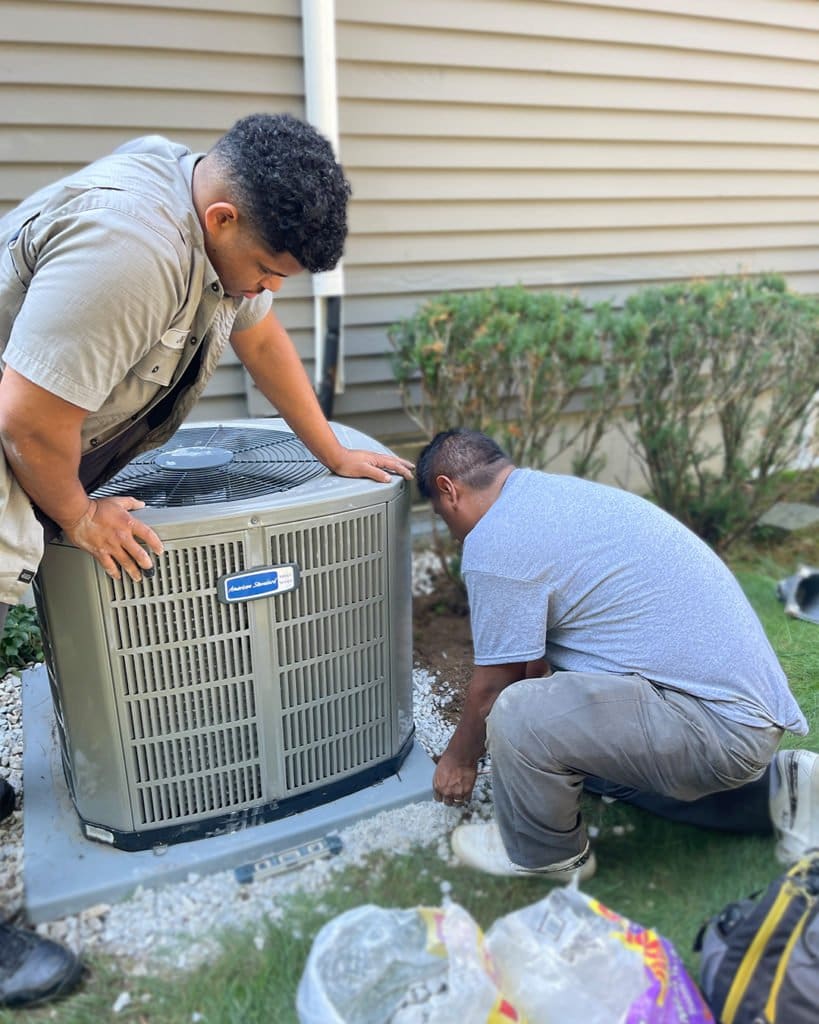 Call Sharp Plumbing & Heating in Northborough, MA
Whether you need an HVAC installation, replacement, repair, or maintenance, you can count on our experts to provide you with a superior level of service. We take your satisfaction very seriously. From our flat-rate pricing to on-time services, it could not get any better. 
Is your HVAC unit not working properly? Is your indoor air affecting your health and well-being? Do you need an HVAC installation? Our highly-skilled technicians are here to help.
We are your neighborhood HVAC services company. Our service-guarantee commitment and excellent reviews have earned us the distinction of being a top HVAC provider in the area. 
Contact Sharp Plumbing & Heating today to book an appointment.